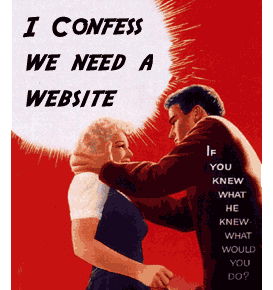 Creating an effective website that provides the right image to attract customers is very important.
A Homepage can enable your business to promote itself worldwide. A website will be available 24 hours a day, 365 days a year and would allow you to attract customers locally, regionally and internationally.
It is therefore, crucial that your webmaster have the knowledge and experience needed to provide you with everything that will be required when posting a website.
It has been said that anyone can create a Homepage.
Let's replace one word in that statement: Anyone can build a complicated, confusing and/or ineffective Homepage.
Choosing your webmaster carefully is very important or you run the risk of ending up with a Homepage that never provides any useful results.
Website Development in 5 Easy Steps
Domain Name Selection - Select your Dot.com .ca or other available name by using the search form below or at the top of the page.

---

Website Development - We want to work with our clients to create a website that will effectively sell products and/or services.

Part of our website creation process is conducting research to fully understand of the strengths and weaknesses of your competition.

Since each website project is different we ask that you first contact us by email explaining your requirements. This way you can get a price best suited to your unique project requirements.

Website Hosting - Where to store your files that will make up your website.

E-Commerce - The fastest and most cost effective method to accept credit cards is with PayPal.

We can work with existing e-commerce applications or create a custom e-commerce system for your business.

Internet Marketing - After you have created your online store you now need to let people know about it.